What Is Oxytocin?
To understand love is to understand the oxytocin response. Oxytocin is truly a miracle molecule. As the body's chemical of rest,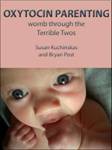 relaxation and balance, it does all sorts of wonderful and important things. We'll talk more about those later in this book. But the key thing you need to understand for healthy, happy parenting is that oxytocin is responsible for love.
That's right. Oxytocin acting in your brain and your body creates the experience we know as love. That's love in all its dimensions: friendship, the love between parent and child, and the love between you and your mate. It's also responsible for most of the other positive feelings we have for other people, from the quick exchange of smiles with a stranger you pass, to admiration for a co-worker, to the way you trust your car mechanic not to rip you off.
Oxytocin does all this — and more — in two ways. First, it calms the brain's fear center. Then, it activates the brain's social center, making you feel good about interacting with someone.
Calming the fear center is crucial. Fear is one of our strongest survival mechanisms, helping us survive physical danger. But it's usually not the best reaction to social situations. When you're anxious or afraid, you can't see things clearly. You may see someone as threatening when he has no intention of harming you. You're on guard and shut down, as fear chemicals race through your bloodstream.
Oxytocin counteracts the fear chemicals, relaxing you and making you able to see other people as potentially friendly and trustworthy. At the same time, when it activates the brain's social center, it actually makes you desire social contact.
A healthy brain releases oxytocin in response to positive social cues. For example, when a mother cuddles her child, both of their brains should release oxytocin. The oxytocin travels into their bloodstreams, where it relaxes them and encourages cellular repair. It also enters the parts of their brain that process social information, making them feel secure and loving.
Want to read more about this powerful hormone and how it affects the love you experience, or would like to experience? Oxytocin Parenting: Womb Through Terrible Twos by Bryan Post and Susan Kutchinskas