Are You Listening?

One of the greatest tools in a parent's toolbox is… ears. Yup. Didn't hear that one coming did you? (Did you ever notice that the word hear has the word ear in it?) It is amazing to me how little we listen and how much we talk to our children. Listening could be compared to a superpower of sorts. Not only listening to what our children are saying but also what they are not saying, and listening to what is between the lines. Sherri Boles-Rogers, Parenting Coach & Family Communication Specialist (and a contributor to our Indiegogo Campaign offering an Intensive Listening Course at over a 50% savings) offers some fundamental steps to increasing your already present superpower. Make it a point this coming week to actively and intentionally apply these to your work and family life and see if you can notice the difference in what you hear, and in how people feel about you. You may be surprised on both accounts. This is important stuff.  Take a Listen – David Durovy

---
Have you ever noticed how GOOD it feels to be really listened to? It's impactful, validating and gives us a sense that we're significant, we matter. There's an art to listening and, like any art, it takes practice.
According to statistics by Dr. Albert Mehrabian, known for his pioneering work in nonverbal communication, only 7% of communication happens through your actual words (38% comes across through tone and 55% through body language). That's why it's important to hone our skills to listen at deeper levels. To listen not only with our ears, but also with our heart. When we can listen to our children at these deeper levels we ingrain in them a sense of significance and self-worth.
A good place to start is by understanding the three listening levels described in the book Co-Active Coaching, by Laura Whitworth, Henry Kimsey-House and Phil Sandahl.
Listening Levels
Level 1–Internal: We hear the other person's words, but our focus is on what it means to us–our thoughts, feelings, judgments and conclusions. I dare say most of our day-to-day listening is at this level.
Level 2–Laser-Focused: Our attention is focused like a laser beam on the other person, with little awareness of anything else. With such strong focus, we are curious, open and have little time to pay attention to our own feelings or worry about how we are being received. Our own mind chatter disappears with such a sharp focus on the other person.
Level 3–Global: Our attention is spread out like an antenna with a 360-degree range. It allows us to pick up emotions, energy, body language and the environment itself. Intuition heightens as we tune into the deeper layers of what is going on.
All three levels are necessary. However, when we spend too much time in self-focused Level 1 listening, our communication with our child can seriously suffer. Engaging in Levels 2 and 3 can improve how we listen–and highly impact the connection and the relationship with our child.
Listening Blocks
It's also important to be aware of these traps we can fall into even when we have set an intention to deeply listen. These come from Richard Anstruther at HighGain, Inc who trains business people in listening skills…but I think they're just as relevant for parents who are intent on listening to their children in a more deeply satisfying way.
Tune Out–Listeners are not paying attention to the speaker due to disinterest in the speaker or subject, thinking about other things or multitasking.
Detach–Listeners are emotionally detached from the speaker, concerned with content only, not the feelings behind it. They may be only half listening, not really interacting, and miss the message's underlying meaning.
Rehearse–Listeners are concentrating on what to say or do next, rather than focusing on the speaker's message.
Judge–Listeners have a different opinion that causes them to block out new ideas and information or lose track of the conversation. They analyze and interpret the speaker's delivery or message, missing the point. They criticize, give advice and make assumptions.
Control–Listeners don't allow the speaker to talk at his or her own pace. They constantly interrupt with comments or questions, and don't allow the speaker to finish a point.
The first step to developing artful listening is to choose to truly listen. As you continue to develop your listening skills, your communication and your relationship with your child are likely to become increasingly satisfying and rich!
♥♥♥ LOVE IN ACTION ♥♥♥
Experiment with Levels 1, 2 and 3 listening, one at a time, to fully understand the dynamics at each level. This was eye-opening for me! I learned that the level at which I listen is a moment-by-moment choice.
Spend some time noticing how often you fall into tuning out, detaching, rehearsing, judging or controlling. What can you do to keep from falling into these common listening traps?
Author's content used under license, © Claire Communications
---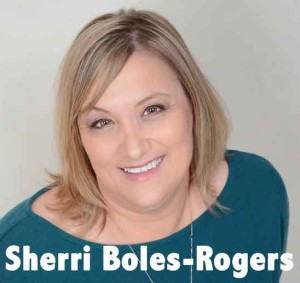 Sherri Boles-Rogers is an ACPI Certified Parenting Coach.  She is also a graduate of the Center for Nonviolent Communication's Parent Peer Leadership Program, part of the Peaceful Families, Peaceful World Project.  She has been a parent educator and parenting workshop facilitator since 2005.
Sherri provides one-on-one and group coaching to parents.  She also facilitates parenting classes and parenting book study groups based on the models of attachment parenting and Nonviolent Communication™.
As a working mother of two boys, ages 19 and 17, she knows firsthand about the challenges of integrating conscious parenting into daily hectic family life.  In her work with parents, her goal is to provide awareness, understanding, and non-judgmental support for families to cultivate "power with" relationships based on mutual respect and trust.
Sherri lives in Atlanta with her husband, Greg and her two boys, Jake and Jeremy. You can visit her and learn more about her valuable training and workshops at www.ParentingHeart.com.